2022 Fall Intern Spotlight
Join us to say "Thank You" to our Fall 2022 Interns and highlight their contributions.
The Center enjoys hosting interns throughout the year. This Fall we welcomed two local Interns from Mohawk Valley Community College. Below, in their own words, the interns tell us about themselves and reflect on their time at The Center.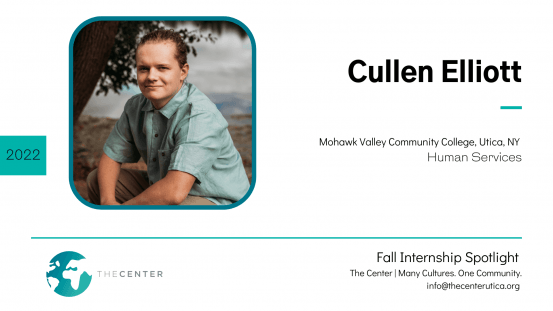 Hello! My name is Cullen Elliott. I am attending Mohawk Valley Community College. I am majoring in Human Services.
My experience at the Center has been extremely pleasant. The staff here are extremely kind and are able to answer every question I could possibly have. The people here have been friendly and helpful towards teaching me the ropes and how the different areas in the building work. The clients who come into the building are very respectful and as friendly as they can be. Each morning that I work here has been filled with excitement and joy. Helping the people who are learning English would probably be my favorite part of the job. It amazes me how fast people can learn a language when they have their mind made up. The smiles and the people that come into the building everyday are what bring me back.
I believe that in order to have a successful and positive time interning for The Center, you would need to always have a smile on your face. Sometimes you may have issues with accents, but taking it slowly and showing everyone you are trying to help definitely makes a huge difference in the attitudes you are given. Knowing more than one language would put you in a huge advantage towards helping people, as if they're having issues with English, you can translate for them.
If you enjoy working with people who speak other languages, or have a general interest in teaching, The Center is a great place to start looking. If you are more of a one-on-one type of helper, there are multiple different departments that you could assist with and change the life of a refugee/client.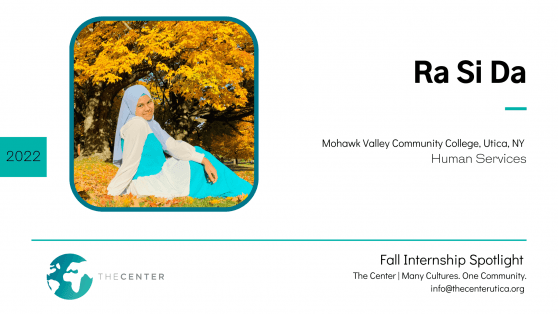 Hi my name is Ra Si Da, I'm originally from Utica, NY. I'm a Human Services student at Mohawk Valley Community College (MVCC), this is my last semester and I am expecting to graduate this December 2022. The reason I chose The Center to do my internship is mainly because I wanted to experience working with different people who are from different backgrounds, cultures and who speak different languages as me in order to gain more experience and knowledge of different cultures. It was the right decision to choose an internship at The Center because they work with people from all around the world.
My internship at The Center has been eye-opening, educational and has provided me with a good sense of what it's like to work in a nonprofit setting. During the internship I get to work on a bunch of different projects with different departments. The department I worked with the most was supporting Citizenship Coordinator Ashley Bustos, front desk if needed and with Elise Incze and volunteers to organize clothing donations. I have learned a lot in these 90 hours of interning at The Center and building a relationship with staff. I'm glad to be part of The Center and grateful for this opportunity.
Thank you to Cullen and and Ra Si Da for your time and contributions to The Center. We wish you well in the future!
For more information about Volunteer and Internship opportunities at The Center visit the Join our Team Page or contact Elise Incze, Volunteer and Internship Coordinator.