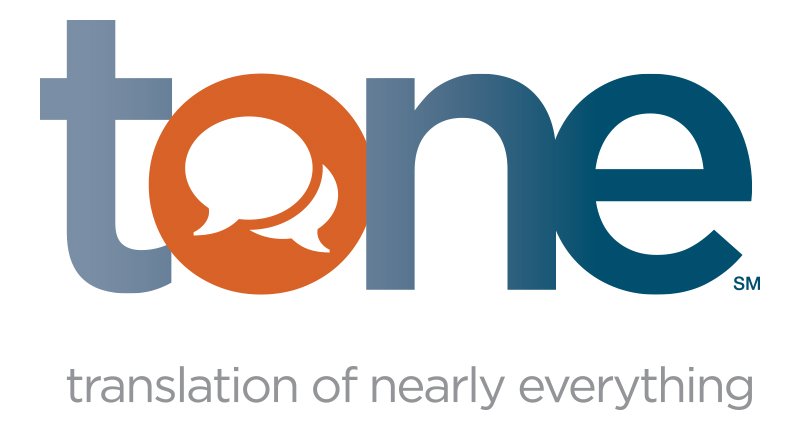 Translation (Tone)
Are you in need of language support? Translating is our specialty. TONE, a division of The Center, provides written document translation for individuals, organizations, and businesses.
Overview
TONE operates as a not-for-profit organization as a division of The Center. Fees generated by the services provided by TONE help support the resettlement, integration of, and language access for newly arrived refugee families. The majority of our translators are former refugees and immigrants. They are more than skilled language experts — they are also cultural advisors. They understand you and your needs and want to be a partner in your success.
Program Highlights
50+ languages available regularly, with all languages available via professional networks
Expertise in languages of limited diffusion (e.g. Burmese, Karen, Nepali, Somali, etc.)
Certified translations for individual documents
Apostille assistance available upon request
Expertise in public health, education, OSHA, and employer training materials
Cultural consulting available for projects requiring population-specific knowledge
FAQs
What is translation?

Translation involves working with print documents, converting text from a source language into a target language (from one language to another language). Although the terms "translation" and "interpretation" are often used interchangeably, by strict definition, translation refers to the written language and interpretation refers to the spoken word.

Who are your translators?

Our translators are skilled language professionals. The majority of our translators are former refugees and immigrants. Visit our Translators Page to learn more.

How do I know if my translation is good?

A good, quality translation should clearly convey the meaning of the original text, read smoothly, and be free from spelling or grammatical errors. Standard personal documents should appear similar in formatting to the original as much as the language allows.

Choosing a professional translation organization, such as TONE, is critical to receiving a good translation. TONE follows the "Translate, Edit, Review" process resulting in every translation being checked by a reviewer and a project manager prior to delivery. Visit our Process and Standards of Practice to learn more.

Do you use any translation software?

Yes, we use a Computer Assisted Translation (CAT) tool called MemoQ. This is not a machine translation. This program assists with term management, translation assignment, and quality assurance.

What languages do you provide? Do you translate for obscure or less popular languages?

We specialize in languages of limited diffusion spoken by resettled refugee populations (e.g. Bosnian, Burmese, Karen, Nepali, etc.). We also offer more commonly spoken languages such as Arabic, Chinese, Spanish, and Russian. We have professional networks to support all language requests.

How much does it cost to get my document translated?

Can I cancel my translation request?

You can cancel a translation request within one hour of an online request and within one day of an in-person request. A fee of $10 per document will be charged to your account if you cancel a translation request after the translator has started work. If you are placing a translation request on behalf of an organization or business, different cancellation policies apply. Please contact us for more information.

How does the billing process work for translation services?

If an individual is submitting a translation request, the full amount is due at the time of the submission.

A business or organization will be invoiced for the total amount of the translation once services are complete. Checks should be made payable to "The Center" No personal checks are accepted.

How long will it take to receive my translation?

Personal standard documents or orders of 220 words or less are completed within five business days or less. You can make a request to expedite your translation for an additional fee.

For businesses or organizations, completion dates are negotiated on a per-project basis, however, an average time frame for requests is 7 to 10 business days.

How do I contact a translator?

Project managers facilitate most interaction between you and the translator. In some cases, a translator may directly contact you to verify details of a translation project. A project manager must authorize all direct contact between you and a translator. To contact a project manager, email us or use the online contact us form.

I do not need a written document translated, I need an interpreter. Can you help me?

TONE does not provide interpreters. However, for some of our services, such as voice-over recording, we work with Compass Interpreters. You can contact them for your request.

Do you provide certified translations?

Yes. A certified translation has a statement attached to or directly on the document stating the accuracy and completeness of the translation. For more information, please visit Resources for Individuals. TONE provides a notarized Certificate of Accuracy for completed translations of all standard personal documents.

What is a Certificate of Accuracy?

A Certificate of Accuracy is a document provided by TONE for personal standard documents stating that the translation was accurate and complete. This is provided on the translated documents or attached as an extra page.

What is notarization?

A statement stamped and signed by a recognized notary public verifying that a statement, document or transaction is authentic and can be trusted. TONE provides notarized Certificates of Accuracy for all standard personal document translations. This verifies that TONE used a professional translator and that the document was reviewed for accuracy and completeness.

What is Apostille?

A certificate authenticating the seals and signatures of officials on public documents, such as birth certificates, notarials, court orders or any other document issued by a public authority, so that they can be recognized in foreign countries that are parties to the Apostille Convention (Hague Convention). For more information, see Resources for Individuals. For an additional fee, TONE can complete the entire Apostille process for your documents. Make this request at the time you request your translation.

The name on my original personal document is not the same as the name on my official U.S. identification. Can you put the name that is on my U.S. identification on the translated document?

For many languages, names can be transliterated or spelled differently when translated into the English language. For accuracy with spelling a name correctly, we will use the name that is on your official U.S. document if it is the same name that is on the original document. However, a translator cannot make any additions or deletions to the original document. If you have an additional family name or married name on your U.S. documents that are not on the original document, we will not be able to put the additional name on the translated document.

Can I request more than one copy of my translation?

Yes. You can request more than one copy of your translation. However, additional copies of a translation and a Certificate of Accuracy may incur sales tax. For shipping purposes, additional copies may result in an increased weight and a higher shipping cost.

I lost my translation, can I get another copy?

We are sorry to hear you lost your original translation. As a partner in your success, we can help you obtain a new copy. Please provide us with a copy of the original document and a copy of your receipt from our office. We will search our files to provide a replacement copy and notarized Certificate of Accuracy. The cost of replacement of documents is $15 per document.
What's Happening At The Center