2022 Summer Intern Spotlight
Take a moment with us to spotlight our summer interns as they prepare to begin the next academic year!
The Center is thrilled to host interns throughout the year - this summer, Volunteer & Internship Coordinator, Elise Incze brought on a team of interns from local colleges and universities. Learn more about their work at The Center and experiences right here in Utica!
---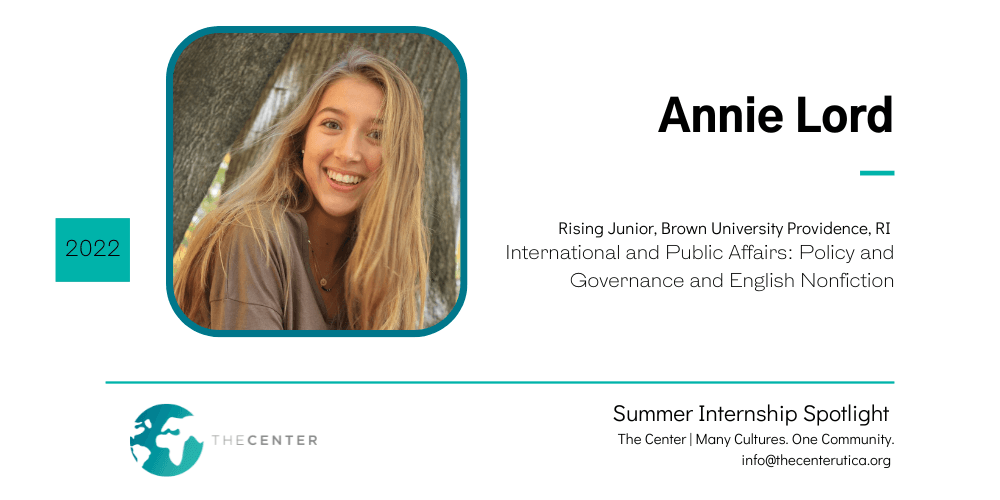 Originally from New York City, I now live predominantly in Cooperstown, NY, and am a rising junior at Brown University in Providence, RI studying International and Public Affairs: Policy and Governance and English Nonfiction. Before beginning college, I had the privilege of taking a gap year, during which I was able to travel and also an intern at a non-profit in NYC supporting immigrants seeking asylum. As my family has transitioned to living in upstate NY, I have been eager to ground myself in communities here that are also working to support folks as they arrive in the USA.
During my time at The Center, I have had the opportunity to get a sense of multiple aspects of the organization - working the front desk, supporting Citizenship Coordinator Ashley Bustos, collaborating with Elise Incze and volunteers to organize clothing donations, and assisting with an apartment set up for a new refugee family. Through each of these experiences, I have gained an understanding of how The Center works to support folks, as well as the importance of thoughtful collaboration between team members, staff, volunteers, and the greater Utica and New York State community. I have also worked with a fellow intern to create a 'Welcome to Utica' Guide, which includes a number of helpful resources for arriving refugee families. In creating the guide and set of maps, I was able to familiarize myself with the City of Utica itself and hopefully provide a lasting resource for The Center.
My time here has been eye-opening. I am incredibly grateful to have had the chance to get to know this community better and get a glimpse into the inner workings of The Center and the exceptionally wide range of work they do here. I will most definitely carry my experience with me as I move forward with my goals of working in the non-profit sector supporting folks navigating arrival to the US and the US Immigration system.
---
I am a Literature and German student at nearby Hamilton College, whose proximity allowed me to attend the premiere of Utica: The Last Refuge last fall. This film is what introduced me to The Center and first sparked my interest in exploring a potential internship here. I am grateful that this initial interest ended up solidifying into a few months of work that I have sincerely enjoyed.
At The Center, I have been working with Opportunity and Entrepreneurship Coordinator Emily Hansen. My tasks have included producing videos and graphics, writing news articles, managing social media posts, and otherwise helping with anything that might spring up on a given day. I was also lucky enough to make it up to Utica earlier this summer to volunteer at The Center's World Refugee Day event, where I was able to meet staff, engage with community members, and take in the day's festivities firsthand.
This internship has definitely provided me with a good sense of what it's like to work in a nonprofit setting. Anyone interested in pursuing a career along these lines should, I think, consider applying to The Center. I have no doubts that my future plans and outcomes will be influenced by the weeks I spent in this role.
---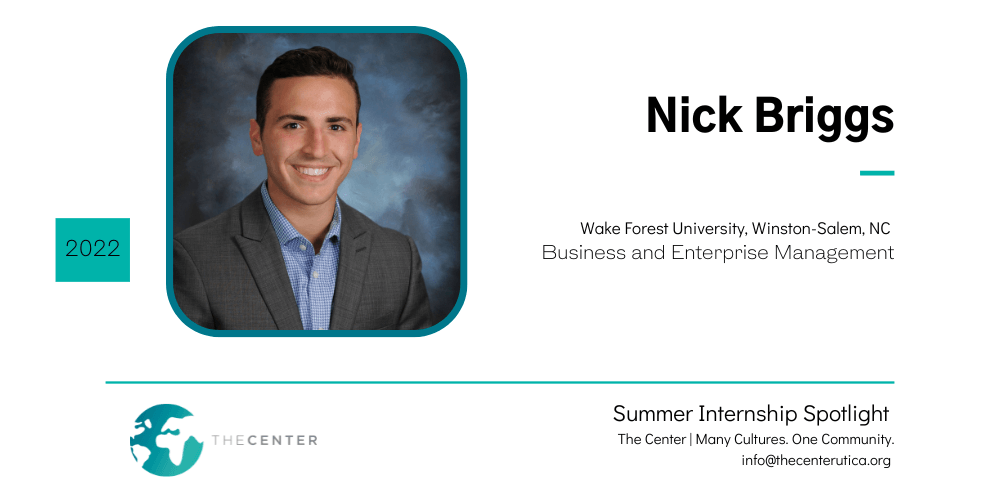 My name is Nick Briggs and I graduated this spring from Wake Forest University, located in Winston-Salem, NC, majoring in Business and Enterprise Management. Originally from Utica, NY, I have always looked toward voluntary opportunities as a means of filling my free time. The Center has provided me with the opportunity to work closely with Career Navigator, Snow Steel, and Manager of Immigration and Citizenship, Ashley Bustos, in assisting with tasks such as resume writing, soft skill development, and even shadowing client naturalization meetings. I have come to appreciate the level of respect and care The Center and its staff take in dealing with their clients, new and old, and have gained such great exposure to the problem-solving mechanisms and patience employed by individuals such as Ashely as problems arise.
One of the best parts of interning with The Center, aside from the great clientele, of course, has been the staff. I have gotten to meet just about everybody in the office, and there is not a person on staff who has not taken the time to answer a question of mine or help point me in the direction of somebody who could if they could not. The Center has a remarkable group of individuals working together to solve the issues of individuals who need their help. The staff cares about their clients, and that shows. I have learned a lot in a short amount of time, and would recommend volunteering or interning with The Center not only if you have any aspirations of pursuing a career in public advocacy, resettlement, or working alongside a non-profit organization, but just in general if you are passionate about service and being exposed to new cultures as I am.
---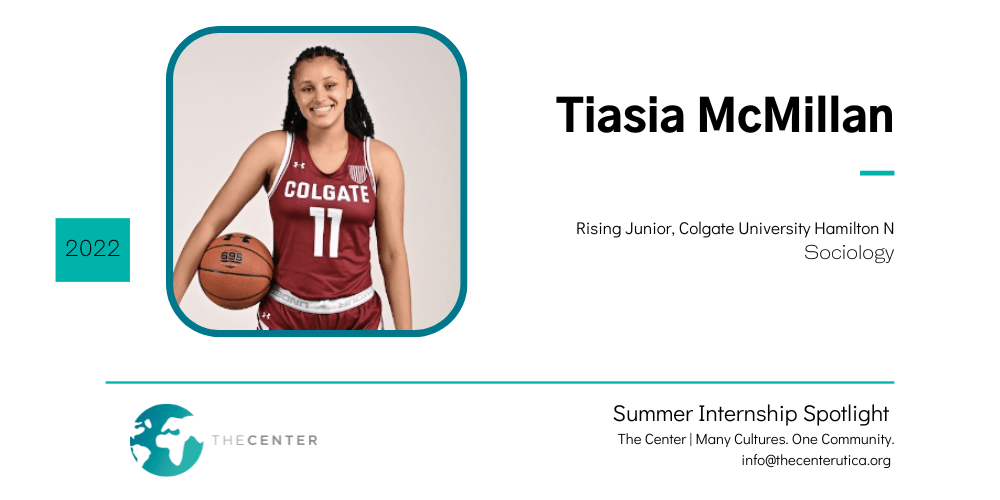 My name is Tiasia McMillan, and I am originally from Tampa, Florida. I am a rising junior at Colgate University, and I am studying Sociology. I am also on the basketball team at Colgate. This summer I have been working with Jennifer VanWagoner who is the Manager of Grants and Community Engagement. I focused on the partnership with Lutheran Immigration and
Refugee Services (LIRS) and implementing their community sponsorship here at The Center. I have also put together a presentation that can be put forth towards the community to help explain community sponsorship in general and how to become a sponsor!
I also got the opportunity to help out around The Center which made my experience even more enriching! This was a great experience overall, and I was able to learn more about the resettlement process in general and how much of an impact the center has on everyday lives.
---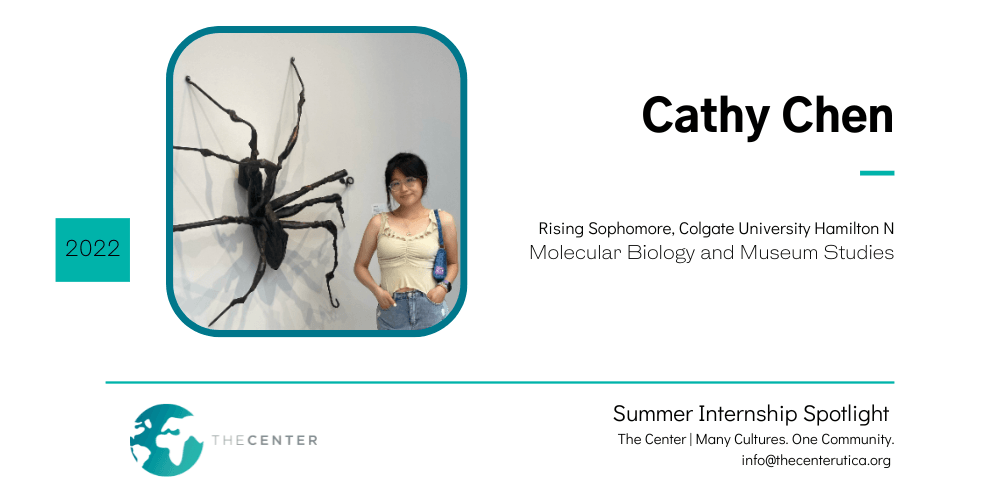 Hi! This is Cathy Chen. I am a rising sophomore at Colgate University and planning to major in molecular biology with a minor in museum studies. I've been working on a community-based research project with Jennifer VanWagoner, Manager of Grants & Community Engagement.
My research revolves around prenatal care and education and aims to examine the needs and barriers refugee women are facing. The ultimate goal is to generate actionable insights to build an educational and birth support program in the future. But the most FUN part is not about reading research papers on PubMed or Google Scholar; It is about building a relationship with staff, clients, community partners, and volunteers and knowing the refugees' stories. Working with people on the edges of society (at either end of the spectrum when it comes to wealth, privilege, and power) needs great empathy and endurance, and I am amazed by The Center's work generating and distributing the resources to the refugees who are in need.
Gaining a glance at the work in the non-profit sector, I have grown into a strong communicator, creative problem-solver, and empathetic teammate. The experience cultivating these soft skills is transferable and also incredibly valuable to me.
---

I am currently a senior at Le Moyne College double majoring in Political Science and Peace/Global Studies. My internship at The Center has been amazing. I have met interesting and inspirational people and I have been able to do work that positively impacts the lives of refugees. Thanks to my summer with The Center, after I graduate I plan to continue my work with immigration and refugee issues in Washington D.C.
My time at The Center has been very fulfilling and educational. This summer I was lucky to work on a bunch of different projects with different departments. The department I worked with the most was TONE. I was responsible for managing the Facebook page and I also had the opportunity to work with lots of data that focused on refugee issues. Two of the projects I worked on were sorting through the U.S census data to update the information TONE uses in presentations about the work we do in Utica and reading the most recent UNHCR global trends report looking at global refugee trends. My favorite project was an informational packet that I helped put together for the resettlement office. The packet contains information that will help new refugees get to know Utica, including the locations and hours of grocery stores, pharmacies, and laundromats. I am proud of the work that I have done this summer that will help to educate my local community and I am extremely lucky to have had this opportunity to meet and work with such amazing and inspirational people.
---
---
Learn about current intern and volunteer opportunities here