Spring Appreciation Spotlight 2023
Last week may have been National Volunteer Week, but April is actually Global Volunteer Month! Join us in celebrating our wonderful Spring 2023 interns.
Here at The Center, we would like to shine a spotlight on our interns who have been volunteering their time with us: Alyssa Raniewicz, Jess Burnett, Kristen Sellars, Mika Tortusa, Inayat Ali, and Mackenzie Bonyak. A big thank you to our Volunteer and Internship Coordinator, Elise Incze, for recruiting our interns. Thank you for all that you do!
Read below to learn more about our interns' time at The Center.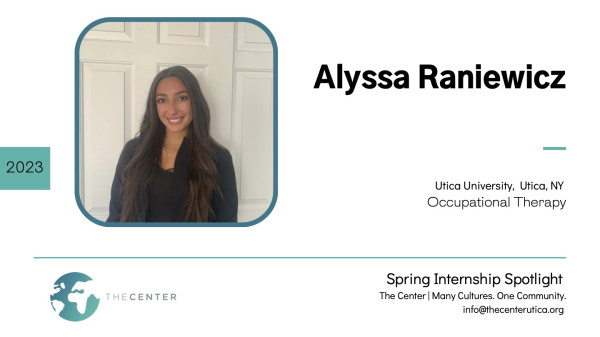 Alyssa Raniewicz
My name is Alyssa Raniewicz and I am from Rochester, NY. I have been living in Utica for the past 4 years during my college experience at Utica University. I am currently a graduate student in the Occupational Therapy program where I will receive my Master's degree in May 2024!
I have had the opportunity to complete my level 1 fieldwork at The Center, working in the ESL classrooms. I gained experience with the pre-beginner and beginner classes, which allowed me to meet and work with a variety of students and teachers. All of the employees and teachers I worked with were amazing with the students and always created a welcoming environment for everyone, including me. I am fortunate to have met so many wonderful people which opened my eyes to different cultures and experiences that truly leave me in awe, and eager to learn more.
As I enter the healthcare field, I will be working with a plethora of different individuals who have different backgrounds, values, cultures, and beliefs. This experience has given me more knowledge about those different from me, which is not only beneficial for my future professional career and the clients I will be with, but for my personal life as well. Overall, my time at The Center has been absolutely wonderful. I am happy to know that I have made an impact on these individuals throughout this difficult and long journey, and would recommend that anyone gain an experience as amazing as The Center.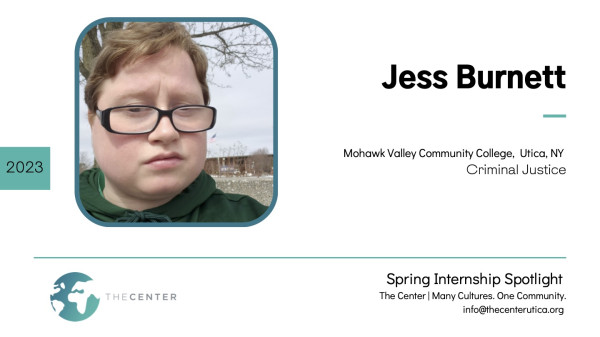 Jess Burnett
My name is Jess Burnett. I live in New Hartford, New York. I currently study Criminal Justice at Mohawk Valley Community College.
It has been an awesome experience at The Center. I first started volunteering at The Center on October 28, 2022. That made it easier to transition over to doing part of my internship at The Center. The people whom I have had the pleasure of working with to assist new coming to this country are nice, respectful, and kind. The individuals who came to this country for a new start are also respectful and courteous. They sensed that I cared about them and wanted to help them the best I could. They also taught me to have an open mind towards those who are different from me.
I have found that doing part of the internship at The Center truly allowed me to help the community by assisting people who are new to this country to learn English. I have also learned to be more sympathetic, compassionate, and sensitive to the needs of others. This was an excellent opportunity for me to get prepared to be in the criminal justice system as a law enforcement officer. Being at The Center is something that will stay with me for a long time. I will never forget the opportunity that I had help others with learning English. In addition, I was truly happy to be at The Center and work with those who need help to learn English. I really have no regrets about doing this. I am so glad that I did do part of the internship with The Center.
I know that the internship with The Center has enabled me to find that I was meant to help others and make a difference in their lives, even though it may not be a lot. The most important thing that I keep in mind- I found a way to give back to my community and that is truly satisfying. No words can express the feelings that I have about helping others. It is an awesome and unselfish thing to do.
In order to be successful with an internship at The Center, you need to realize that other people need your help. You must also be willing to extend a helping hand and set some time aside for that. Being able to work with others and help others is a must for any field and occupation. Interning at The Center will allow an individual to give back to their community and make a difference. I think that interning at The Center will allow you to find your passion for helping others.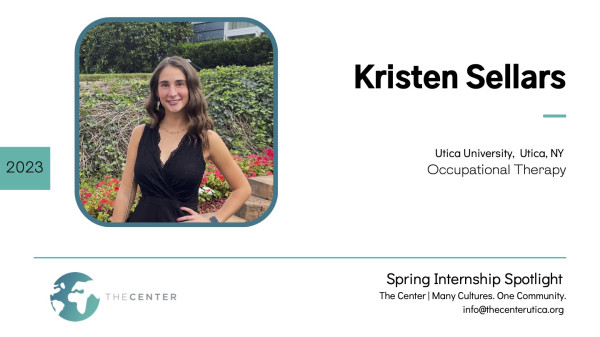 Kristen Sellars
My name is Kristen Sellars and I am currently a graduate student in the Occupational Therapy Master's program at Utica University. I am from New Hartford, NY which is right next door to Utica, and I have had the pleasure of growing up near such a culturally diverse city.
My time at The Center this year has been amazing. The entire staff was extremely kind, helpful, and so willing to help me and to answer all my questions. I have been working with Matthew Handzel in the advanced ESL class and have had the pleasure of getting to know the students in this class. I was fortunate to hear them speak their native languages and to learn about many different experiences and cultures.
Being at The Center has helped me tremendously as an individual and as a future healthcare professional. I feel that I am now able to better communicate with other individuals and this opportunity has also helped me to become a more confident and practiced public speaker. Being able to communicate and learn from other individuals who have different experiences from myself is so important, going into the healthcare field, but also in all aspects of life. I am so grateful for my time at The Center and will forever cherish what I have learned and will use it in my future profession.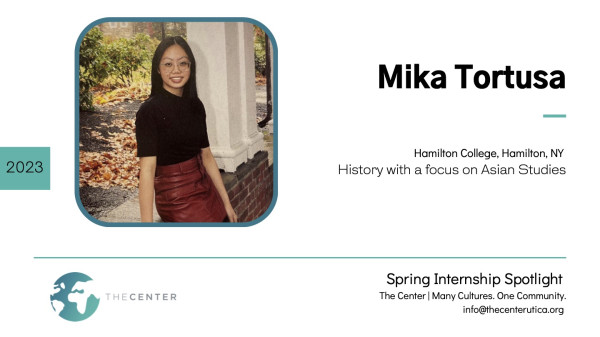 Mika Tortusa
I'm a current sophomore at Hamilton College, pursuing a degree in History with a focus on Asian Studies. Interning at the Center has been an amazing experience. As an immigrant myself, it felt very rewarding to help with the ESOL classes and engage with the students. I initially became an intern through my Hamilton College & Social Justice class; my professor gave me the opportunity to help out at the Center and see first hand what activism and social justice looked like. In ESOL classes, I mostly help out whenever students have questions, but recently I've been guiding specific students through reading and writing exercises.
This internship taught me a lot about communication. It's difficult to engage with people when there's a language barrier, but finding simple commonalities such as favorite foods opens up a new level of understanding between people. The Center also served as a reminder that there is life outside of college; it's easy to forget about the world around you since college is often a bubble, so getting off campus and helping out every week was a breath of fresh air. I'd recommend volunteering at the Center to not only help the community but to learn more about other cultures and yourself.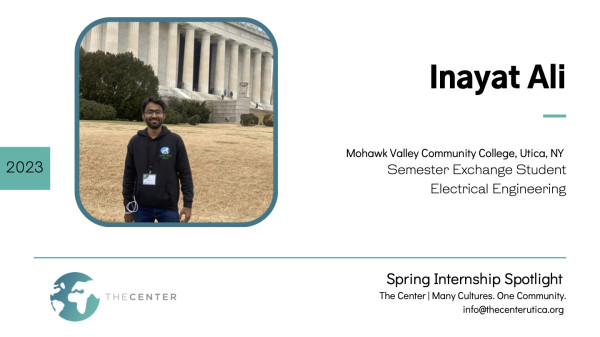 Inayat Ali
I was born and raised in Karachi, Sindh, although I am from the Pakistani province of Balochistan. I finished my studies in Karachi and was accepted to NEDUET, one of Pakistan's top engineering schools. It was my ambition to study abroad after finishing my intermediate, but that dream had to wait till I completed my three years of a bachelor's degree. It was unexpected, but a fulfillment of a dream, that I was chosen as a cohort for the UGRAD Exchange Semester 2023 Spring. As a first-generation university student, Mohawk Valley Community College at Utica, NY, is indeed a wonderful opportunity, and I hope that my siblings and friends would also seek education in order to have better futures. Physics and sustainable energy are interests of mine. Besides this, I believe in giving back to society. I was running a career counseling organization back in my home community to help the youth in their professional and personal lives.
I joined The Center, a refugee center in Utica because I was eager to give back to the community and learn how it operated. As a front desk volunteer, I had to deal with people from every corner of the globe that needed assistance with their residency issues. I enjoy learning about and understanding diverse cultures, as well as meeting individuals from all backgrounds. The Center provided me with the chance to learn about the several ethnicities of the United States. Contact with other individuals taught me the value of peaceful cooperation, which is absent in my country. I increased my soft skills, such as communication and comprehension, management, interpersonal skills, and, most significantly, timeliness. I'd like to thank Mrs. Elise Incze, volunteer coordinator, and the whole team at The Center for this opportunity.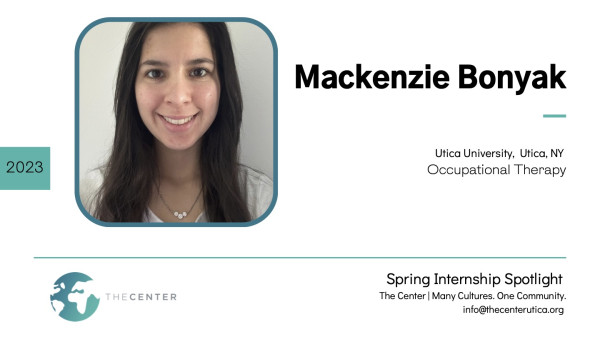 Mackenzie Bonyak
My name is Mackenzie Bonyak and I just completed my level I fieldwork at The Center. I am originally from Horseheads, NY, receiving my master's degree from Utica University in Occupational Therapy. I was very interested in learning about new cultures and languages, so I chose The Center to complete my level I fieldwork. I am grateful for this opportunity.
At The Center, I learned a lot about cultural backgrounds and was able to interact will a lot of immigrants/refugees. Hearing their stories and getting to know them was one of my favorite parts about being at The Center. The staff was super friendly and helpful in pointing me in the right direction or answering any questions I had. Elise was a huge help in being flexible with my busy schedule as well. The ESOL teacher I was with showed compassion and enthusiasm when teaching the immigrants/refugees English as a second language. She allowed me to conduct small groups and help throughout each lesson. The Center is a great place to get involved especially if you want to make a positive impact in someone's life. They provide a lot of great resources and current news within the community.