Vaccine Clinic Today 1:00pm - 4:30pm at OC Health Department (406 Elizabeth St.)
A vaccine clinic will be held today from 1:00pm - 4:30pm at the Oneida County Health Department (406 Elizabeth St.). Adult & Pediatric (Children's) vaccines are available for school immunizations, flu, COVID, and other adult vaccines. (Scroll Down for Details about Getting Free COVID Tests)
The Vaccine Navigator Program at The Center is partnering with the Oneida County Health Department for a vaccine clinic:
Tuesday, September 26, 2023
IMPORTANT LOCATION CHANGE:
406 Elizabeth Street (Oneida County Health Department)
1:00pm - 4:30pm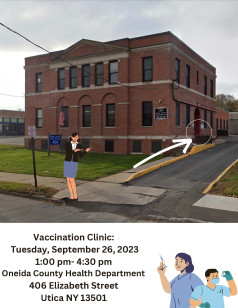 *No appointment needed.
** Bring your health insurance card.
***The Center will provide $25 Walmart gift cards.
#TheCenterUtica
#GetVaccinated #Fightflu
This event is organized by the CDC Partnering for Vaccine Equity program at The Center. For more information contact Community Navigator Program Coordinator Maribel Morales.
__________________
Additional COVID Guidance: Free Tests are available again.
#BePrepared
Beginning September 25, 2023, every household can again place an order to receive four more free COVID-19 rapid tests delivered directly to their home.
How do I order free COVID-19 tests from USPS?
-When USPS starts taking orders for COVID-19 tests on September 25th, you'll only need to provide a few bits of information to get your kits. You won't be asked to provide any credit or debit card details, as both the tests and the shipping are free.
Here's how to get your kits once the order process begins.
2. Enter your contact details and shipping information.
3. Click Check Out Now.
4. Verify that your information is correct and select Place My Order.


All orders will be shipped via First Class Package Service.
People who can't access the website or who have trouble ordering online can call 800-232-0233 to order their free tests.
IMPORTANT - PLEASE LET CLIENTS KNOW: